Finland's
leading
workwear brand
Dimex Ltd is a Finnish company that has been designing, manufacturing and selling the best workwear in the world since 1982. Dimex hails from Leppävirta, which is located in the North Savo region of Finland. Our clothes are worn by thousands of Dimex fans across the globe who work in the transport sector, earthworks engineering, industrial property maintenance, logistics, landscape construction, plumbing, electrical, HVAC or building industries – you name it!
Our product development, including the design process, pattern making and prototype sewing, takes place at Leppävirta, where our headquarters and customer service department are also located. As Finland's leading workwear brand, we are proud to deliver more than 430,000 garments to the different corners of Europe each year. In 2019, Dimex Ltd was selected as company of the year by Kauppalehti, a major Finnish business and commerce news outlet.
The Dimex attitude
Our motto, No Bullsh*t, beautifully sums up the Dimex attitude: we are genuine and have no hidden agendas. At Dimex we aren't afraid to admit our mistakes, never take ourselves too seriously and love a healthy dose of humour added to the mix whenever possible.
We like to get things done without making a huge fuss about it. We are straight-talking, open and honest, and proud of what we do. When you cut the crap, you're left with the stuff that really counts. No Bullsh*t!
Customer-led product development
Our premise is to make clothes that are perfect for their purpose, and the people who wear Dimex clothes every day have the real expertise and can tell us what works and what doesn't. We are always happy to receive feedback and make changes to our products accordingly, which might be why we have an exceptionally close relationship with our customers.
Customer satisfaction is a top priority for us: whenever any problems arise, the process to solve them begins without delay. In cases where we have made a mistake of some kind, we are quick to admit it and keen to learn from it.
Happy
employees
a top priority
Dimex employs approximately 20 people, and thanks to the compact size of our team, we are able to maintain low hierarchies and have open discussions. Our goal is to be a fair employer, with very little interest in creating hierarchical structures within the company. For us being fair means flexibility, good management skills, respectful behaviour, zero tolerance of discrimination, as well as ensuring that our employers find a sense of meaning and purpose in what they do while getting paid an appropriate wage. 
We monitor employee satisfaction and well-being annually and our human resources committee intervenes immediately if a red flag is raised.
Each year we highlight one area in which we can improve well-being at work. In 2021, the focus has been on how to reduce the psychological burden experienced by employees.
Employee satisfaction
Every year, we conduct a well-being survey that examines the extent to which our employees feel self-motivated and satisfied with their job. If the average of the responses is less than 3.6 (on a scale of 1 to 4), we begin to investigate the issues and make changes where necessary.
The human resources committee
In addition to the Managing Director, the human resources committee of Dimex consists of three people who work at different departments of the company. During the meetings, the committee members discuss all sorts of important topics, including local agreements, occupational health and safety, ground rules at the workplace, recreational activities, ergonomics, well-being at work, working arrangements and company culture. It is hugely important to us that employees are involved in the decision-making processes.
Zero tolerance of discrimination
Although the style of humour at Dimex can be a bit racy and risque at times, we do not accept discrimination in any shape or form. At Dimex, religion, age, gender, sexual orientation or ethnicity are neither grounds for discrimination nor favouritism, and we are quick to address any instances of unfair treatment or harassment.
Flexibility and work–life balance
Work is not supposed to be the only thing you fill your days with, and it is important to find the right balance between the demands of a career and personal life. At Dimex, we encourage our employees to have a healthy work–life balance and do our best to offer support and flexible solutions at the different stages of their lives.
Investments in good management
Good management is the key to a fair and supportive working environment. At Dimex, managers are present in the employees' lives and are interested in what happens at the workplace every day. Also, plenty of time, money and effort is invested in developing the managerial skills of the management team. 
Towards a sense of meaning and purpose
Having a sense of meaning and purpose is crucial to how motivated and satisfied you feel at work. We help our employees find their own place at Dimex and encourage a two-way rapport, which allows employees to set and work towards their individual goals, together with our help. We provide plenty of feedback and enable continuous learning and development at work.
Appropriate pay
Everyone deserves to be paid an appropriate wage based on their performance and the requirements of the job. We regularly discuss the levels of pay together with our employees, and take increased levels of knowledge and skills into account in their pay. Our employees are always paid on time and according to the contract of employment.
Respectful behaviour and compliance with rules
The name of the game is that colleagues are always treated well and with respect. No matter what your title, at Dimex everyone is obliged to stick to the mutually agreed rules, develop their interpersonal skills and promote respectful behavior at work.
What did we achieve in 2021?
Our human resources committee worked efficiently and staff was kept informed of the matters discussed at the committee meetings in a very open manner. A continuation of the human resources committee has been requested.
Despite COVID-19 and remote working, our staff gave a great deal of positive feedback on the good team spirit at Dimex.
What didn't go quite so well in 2021?
The average of responses in our annual employee well-being survey was lower than we had hoped. Challenges posed by the pandemic affected work life throughout the year. We succeeded in organising the remote work, but our working community and the social aspect of it suffered, when we were unable to be together.
Our goals for 2022 and the future 
We will update and clarify the job descriptions of our Dimex staff members, in order to guarantee work peace even in the middle of this constantly changing global situation.
We are recruiting a number of new members to join the Dimex team to help with our growing demand. (If you are raring to go just as badly as we are, you can drop us a line and send an open application here.)
Dimex was founded in 1982 by Mikko Grön and Timo Krogerus, whose brother Jukka, together with his wife Sirkka, took charge of the company during the 1990s. Today, the main owner of the company is the Finnish private equity investor Sentica. Riitta and Tuire from the Krogerus family and Petteri Tirkkonen, who are known as the three musketeers, or sometimes by their nicknames Brake, Gas and Clutch, are minority shareholders and work in the management of the company. 
Dimex is a Finnish company that pays its taxes in Finland. Three of the owners, Pete, Tuire and Riitta, are very much involved in day-to-day operations as well as the business side of things.
Over the years, Dimex has grown steadily, but always on our own terms: we are not looking for quick profits at any cost, but instead have worked systematically to become a reliable and valuable long-term partner for retailers and suppliers. We are constantly developing our operations because we want to grow sustainably and do slightly better than we did during the previous year.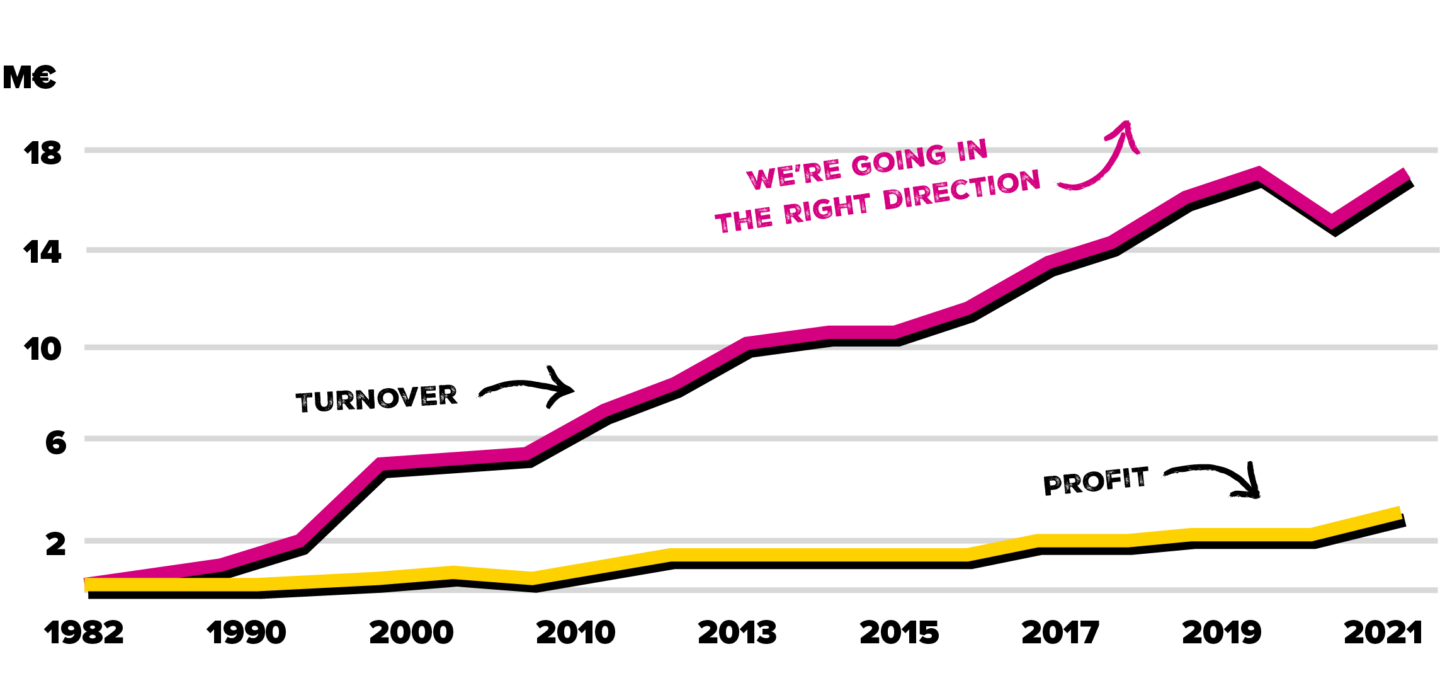 What did we achieve in 2021?
We cemented our position within the current retail channels. The share of retail sales increased further compared to corporate sales. 100% of the growth in 2021 came from the retail side.  
What didn't go quite so well in 2021?
We fell short of our target turnover by a few hundred euros. The goal was to reach the same numbers as in 2019. Even though we didn't quite hit the target, we're proud as h*ll of our achievement in these challenging times.
Our goals for 2022
We will continue to invest in retail.
We will further increase our nationwide brand visibility. We will also put special efforts in increasing the Dimex brand recognition in the Helsinki Metropolitan Area.
The story of the name Dimex remains a bit of a mystery to this day.
Back in the day, Jukka Krogerus, the Managing Director at the time, took part in a marketing training where he was told that a good brand name has five letters and ends with the letter x. Soon after he sat down with a friend who worked in advertising and shared this piece of information with her. As they drank coffee and chatted away, somehow the name Dimex came up.
Well what does it mean? No-one really knows, but what we do know is what it stands for: Dimex is synonymous with the best workwear in the world. And that's the only thing that matters.
All companies tend to say that their customers are the best. They clearly haven't met Dimex fans, who are like a breed of their own. Dimex fans possess a f***ing amazing attitude to work and life in general – not to mention their unique sense of humour.
If you find this hard to believe, you should definitely check out the awesome images and stories shared by Dimex fans on social media. We highly recommend you follow the hashtags #dimex and #dimexworkwear, and promise that you won't be disappointed!
While there, you might also want to start following Dimex's official social media channels that serve a healthy dose of useful stuff, garnished with a whole heap of nonsensical but decidedly entertaining content. Enjoy!